Shady Asylum Presents: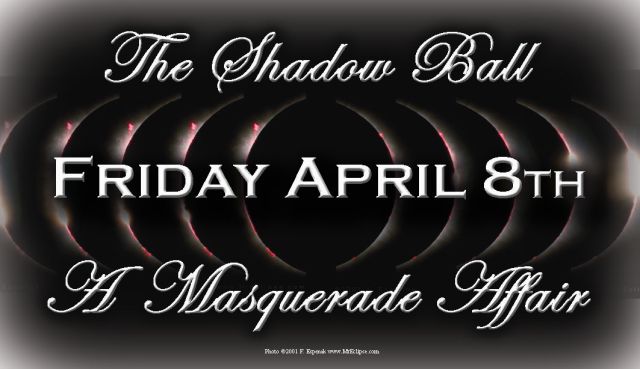 The Shadow Ball
A Masquerade Affair
Friday April 8th, 2005
Details
Join us for a night of drinks, dancing, decadence, and debauchery. Don your mother-in-law's best Alice in Wonderland dress and borrow your boyfriend's makeup! Costumes are encouraged but anything fabulous will do.
A private affair to be held at a fabulous Capitol Hill mansion
Doors 9pm until 4am
$5 Donation Entrance - Bar 21+ with ID
Info Line 206.444.4052
Performers
Your Master of Ceremonies for the night: Anton Bomb ( Shameless )
Belly dancing by Amelia from Children of the Revolution ( AmeliaJM@hotmail.com )
Cabaret burlesque interlude by Babette LaFave ( Atomic Bombshells )
Fire performance by Q
More if you're all naughty enough...
Directions
1065 Summit Ave E
Head north on Broadway
Turn left on Prospect
Prospect will dead-end into Summit
Turn left on Summit
The house is half a block on your right
Please don't disturb the neighbors.
This is a private residence in a very exclusive neighborhood and we are priviledged to use it.
Also- parking is extremely limited on these streets so please don't block driveways either.
As a last resort, the Scottish Rite Center has been kind enough to offer the use of their parking lot for a small donation of $5 per car. They are located at 1155 Broadway E which is roughly 5 blocks away. Please inform the door guy if you parked in the lot - on your honor.